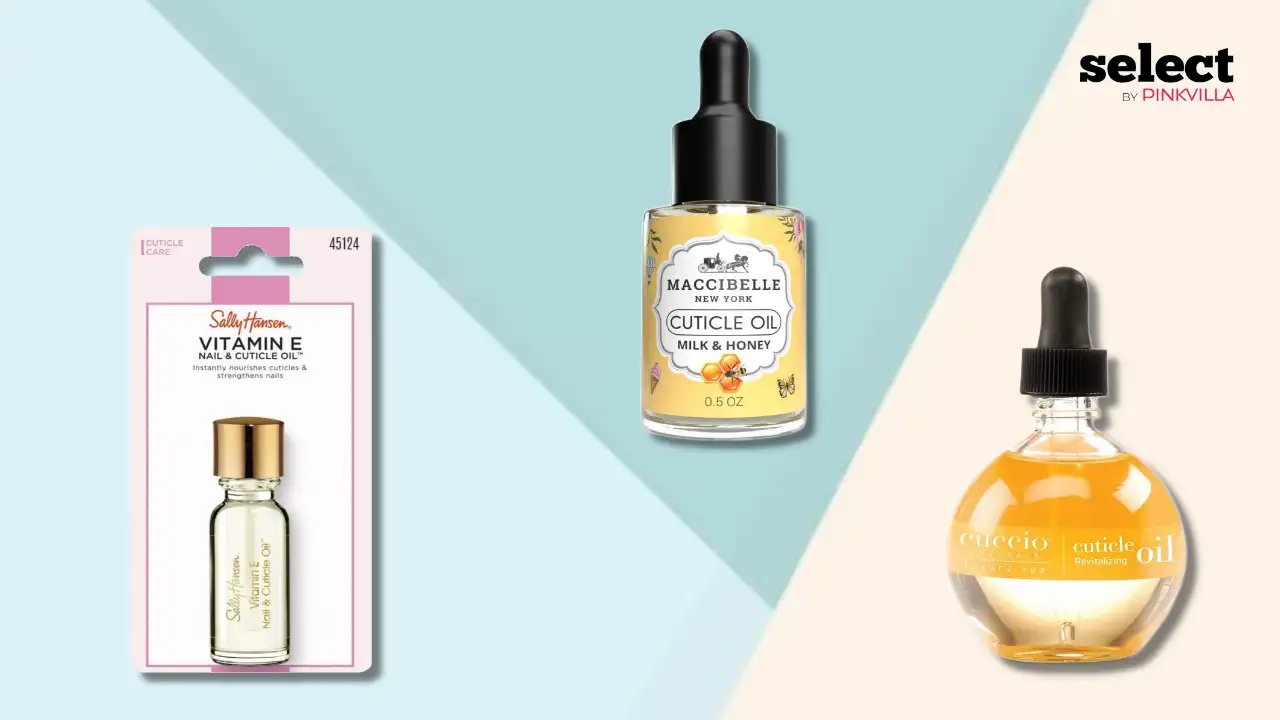 The products curated for this article are independently chosen by the
editorial team. If you make a purchase through the
links
mentioned below, we may receive a commission. Check out our
product
research & curation process
We don't just love the fresh coat of nail paint after our manicures but the soft, supple, and shiny skin around the nails, i.e., glowing cuticles. Applying the best cuticle oil increases the longevity of manicures by deeply nourishing the skin and nail health, as well as making weak nails stronger.
Dr. Andrea Suarez, a Dermatologist, says, "Our hands and nails are constantly exposed to a lot of environmental stressors that suck the moisture right out, and that can lead to brittle nails as well as nail breakage. So my number one tip is to make sure you moisturize your hands consistently throughout the day as well as your nails. This will help keep them hydrated and healthy and reduce nail breakage."
Whether you get a manicure from the salon, do a DIY nail care routine at home, or simply go about doing your business with bare hands, cuticle oil and cuticle creams enhance the beauty of your hands. While you can simply use vitamin E or other essential oils directly, the powerful blend of carefully chosen oils in the cuticle oil works to target different concerns. It heals, hydrates, and highlights the natural radiance.
Now let's look at some of the best selling cuticle oils of 2023.
Our top picks
Best Anti-breakage Solution
13 Best Cuticle Oils of 2023 for Soft and Strong Cuticles
Close your eyes and imagine how delightful it will be if you get the ultimate manicure experience at home, that too, on a budget! With a rating of 4.7 on Amazon, the Cuccio Naturale Revitalizing Cuticle Oil is among the favorite and best oil for cuticles, loved by its users. Developed using cold-pressed oils and rich vitamins, this cuticle oil deeply nourishes, replenishes, and strengthens the cuticles and nails. This lightweight and fast-absorbing cuticle oil is perfect to cure dry, brittle, and cracked cuticles. The milk and honey variant in particular is very hydrating as milk contains soothing and softening properties while honey, a natural humectant, locks in moisture in the skin. Overall, you just need to use one drop of this nail product to achieve a spa-like finish.
Key Ingredients
Vitamin E oil, Safflower Oil, Cottonseed oil, Milk, Honey
Size
2.5 oz.
Dosage
Need basis
Pros
Paraben-free
Non-greasy
Promotes nail growth
Salon finish
Long-lasting
Next on our list is the Modelones Nail & Cuticle Oil which doubles up as the perfect base and top coat for your nail paints. This thick and rich cuticle oil for nails is packaged as your regular nail lacquer, which makes it very easy to use. Use it once daily, or twice if you have extremely damaged nails, to get a smoother and moisturized surface. This nail cuticle oil forms a protective film on the nail's surface that prevents it from tearing and damage and also makes the nail paint last longer. The unscented formulation is enriched with vitamins E and B and natural plant essential oils that help with the repair and maintenance of healthier nails and gives a manicure-like sheen finish. 
Key Ingredients
Vitamin E, Vitamin B, Grape Seed Oil
Size
0.5 oz.
Dosage
Once daily
Pros
Shiny finish
Convenient applicator
Unscented
Non-sticky
From among the most popular and trusted nail care and nail art brands, O.P.I's Pro Spa Nail & Cuticle Oil is a highly raved one! After trying out this product, composed of an ultra-nourishing formula, users felt their cuticles were softer and healthier in just a few days of daily use. This cuticle oil which has an all-natural formula, also helps to stop signs of aging and provides a salon-like finish if you use it after an at-home manicure or pedicure. Although it has a thicker consistency, once you start massaging it into the skin, it gets absorbed quickly and does not leave a sticky feeling afterward. We give this cuticle oil a big thumbs up on the parameters of hydration and nourishment. 
Key Ingredients
Grape Seed Oil, Sesame Oil, Kukui Oil, Sunflower Oil, Cupuaçu Oil
Size
0.29 oz.
Dosage
Twice daily
Pros
Fast-absorbing
Lightweight
Hydrating formula
Pleasant mild scent
If you also adore stylish and luxurious packaging, the Sally Hansen Vitamin E Nail & Cuticle Oil will definitely catch your eye. A fantastic gifting option, it is very reasonably priced. Once you start applying it every night, you will notice that your nail bed feels nourished, less fragile, and strong after a few days. It has a very mild fragrance, and the formula is quite lightweight and well-absorbent. This cuticle oil for nails is composed of a natural essential oil complex containing vitamin E, wheat germ, apricot kernel, aloe vera, and panthenol. This powerful blend imparts deep moisturization, conditions the cuticles, and helps to increase nail flexibility.
Key Ingredients
Vitamin E, Wheat Germ, Apricot Kernel, Aloe, Panthenol
Size
0.45 oz.
Dosage
Every Night
Pros
Affordable
Very nourishing
Adds long-lasting shine
Cures brittle nails
Cons
Gives results after consistent use
After putting it to the test, we can say that Maccibelle Cuticle Oil is among the best drugstore cuticle oils. It is available in 5 wonderful variants that help to bring back the natural smoothness and health of the cuticles with regular application. The milk and honey variant, in particular, is developed for cracked and brittle cuticles. Honey is a natural moisturizer, while the lactic acid component from milk replenishes and stimulates the skin cells. The formula also contains vitamin E, a beloved and powerful ingredient in skincare products (1). Although the oil is lightweight and slightly on the runnier side, it absorbs and penetrates quickly. The dropper packaging also makes it hygienic and easier to apply this cuticle oil.  
Key Ingredients
Vitamin E, Safflower, Sunflower, Cottonseed Oil 
Size
0.5 oz.
Dosage
3-4 times per week
Pros
Easy to use dropper
Permeates well
Lightweight
Affordable
Cons
Slightly strong fragrance
Based on our first-hand experience, the Blossom Scented Cuticle Oil has the most gorgeous packaging and diversity of variants. The most distinctive aspect? This cuticle oil is infused with dried, real flowers, which add an unparalleled charm. The vegan formulation contains high-quality natural ingredients that aim to prevent hangnails and tears. Enriched with essential oils, it helps to strengthen nails while nourishing and healing dry cuticles. The consistency is also perfect to absorb quickly without leaving behind any residue or sticky sensation. There is a brush applicator that ensures mess-free use and easier portability. Stop your search for a softening, hydrating, and repairing formula, because this pretty thing is up for grabs!
Key Ingredients
Mineral Oil, Fragrance, Tocopheryl Acetate (Vitamin E), Oleyl Alcohol 
Size
0.42 oz.
Dosage
3-4 times per week
Pros
Vegan
14 variants
Paraben-free
Cruelty-free
With the claim of providing 30 days of perfectly manicured hands, Azurebeauty's PRO Cuticle Oil is next on the list. This cuticle oil, which functions somewhat like a glow serum, hydrates, nourishes, softens and rejuvenates the cuticles. The formulation is enriched with natural oils and vitamins but feels lightweight and grease-free. The anti-breakage solution seeps into the skin and promotes faster growth and thickness of the nails. The powerful blend of natural ingredients in this solution includes vitamin E and grape seed oil, the famous antioxidants that also repair signs of aging; keratin, which enhances nail flexibility; and jojoba oil, which conditions and smooths the nail. Repairing cracked nails and healing cuticle damage, therefore, becomes very simple and pocket-friendly. 
Key Ingredients
Vitamin E, Keratin, Jojoba Oil, Grape Seed Oil, Sweet Almond Oil, Macadamia Ternifolia Seed Oil 
Size
0.5 oz.
Dosage
Once or twice daily
Pros
Non-greasy
Lightweight
Easy application
Free from preservatives
To give your cuticles and nails the much-needed love and care, C CARE has developed the Lavender and Chamomile Cuticle Oil. As per our expertise, this is a good cuticle oil that penetrates deeply into the skin to infuse moisture and prevents nail peeling and splitting. The rich oils integrated into the formula also add a shine to the fresh nail polish and forms a layer to hold off premature chipping or cracking. The formulation contains specifically chosen high-performing antioxidants like sunflower, cottonseed, and chamomile. These have a soothing and moisturizing effect. Lavender, being a natural stress reliever, also has calming properties, and vitamin E protects cells from oxidative damage. Made in the USA, this cuticle oil is available in 3 other variants. 
Key Ingredients
Lavender, Sunflower, Chamomile, Cottonseed, Vitamin E
Size
2.5 oz.
Dosage
Once or twice daily
Pros
Paraben-free
Plant-based preservatives
Pleasant scent
Cruelty-free
Ecco Pure Cuticle Oil is the best cuticle oil pen that can be carried in your bag or pocket for quick touch-ups on the go. Unlike brushes and droppers, the cuticle oil pen allows greater control and accuracy, so there's no mess, and the product is also not wasted. The complex blend of oils and vitamins like E and B5 helps to repair, deeply nourish and protect cuticles and nails. Applying this cuticle oil daily will help to increase blood circulation around the nails and stimulate healthy and faster nail growth. It also increases nail strength. You can also use it to revamp an older manicure and add a fresh shine and glow. It also has a pleasant and mild fragrance that will add to the feeling of happiness during your pamper sessions. 
Key Ingredients
Vitamin E, Vitamin B5, Grapeseed Oil, Safflower Oil, Pineapple Extract
Size
0.1 oz.
Dosage
Daily
Pros
Strengthens nails
Stimulates nail growth
Lightweight
Portable packaging
Cons
Very less quantity, runs out quickly
Available in five variants, the Nailive Cuticle Oil repairs dry, cracked, and brittle nails while restoring moisture. It helps with nail growth and cuticle shine as well. Suitable for everyone but ideal for dry skin, the milk and honey variant deeply hydrates and strengthens the nail. The organic honey and milk extraction in this variant boosts skin glow while soothing and moisturizing the skin. Jojoba oil revitalizes and brightens the nails and cuticles, and vitamins B and E have antioxidant and cell regeneration properties. No more nail-biting because this magical concoction will leave your hands looking as beautiful as ever. The packaging is a convenient dropper that is easy to use, and the oil itself is fast-absorbent. 
Key Ingredients
Vitamin E, Vitamin B5, Jojoba Oil
Size
0.5 oz.
Dosage
Daily
Pros
Vegan
Non-sticky
Cruelty-free
Paraben and gluten-free
Cons
Slightly runny consistency
Through our practical knowledge, we realize that fragrance plays an important role when indulging in self-care activities. And the EXCUSE me PROFESSIONAL Cuticle Oil is loved by its users, specifically because of its invigorating fragrance along with the hydration and damage-repair benefits of cuticle oil. Priced at a very reasonable cost, this formula contains vitamin E that nourishes cuticles and strengthens nails. The oil is light like water and penetrates easily without being sticky or greasy. The ingredients also have antioxidant benefits. Bottled, keeping in mind the highest standards in the USA, this cuticle oil has a brush application and is easy to use. 
Key Ingredients
Vitamin E
Size
0.5 oz.
Dosage
3-4 times per week
Pros
Pleasant scent
Promotes nail growth
Softens the cuticles
Affordable
With an eyedropper-type precise application, the Gelike Nail and Cuticle Oil is packaged for everyday nail care. It is available in three variants and is a great conditioner and nourisher for dry, damaged nails. It helps to prevent breakage caused by brittleness and promotes cuticle cell renewal. In just a week of use, you would be able to tell a difference and achieve supple, more nourished nails and cuticles. Infused 98% with pure jojoba oil, this cuticle oil enables moisture restoration and nail protection. The organic nature flower extract smooths the skin around the nails, and vitamins B and E enrich the oil with their antioxidant and rejuvenation properties. 
Key Ingredients
Vitamin E, Vitamin B, Jojoba Oil, Nature Flower Extraction
Size
0.5 oz.
Dosage
Daily
Pros
100% natural
Affordable
Cruelty-free
Salon finish
Composed of a blend of naturally light oils and vitamin E, the CND SolarOil Nail and Cuticle Care are developed to enhance nail and cuticle health. As a great cuticle oil for nail growth, it features a conditioning treatment that permeates deeply and quickly to soften the cuticles and promote stronger nails. Jojoba oil is known for its moisturizing and intense conditioning properties and also aids with the efficacy of other ingredients, doubling their impact. Derived from pressed almonds, the oil extract is also highly nourishing, and of course, vitamin E  neutralizes the radicals associated with premature aging of the skin and adds antioxidant benefits to your nail care treatment. Although a little more expensive than many cuticle oils, this is definitely a good investment!
Key Ingredients
Vitamin E, Jojoba Oil, Sweet Almond Seed
Size
2.3 oz.
Dosage
Daily
Pros
Super-penetrating formula
Promotes stronger nails
Value for money
Makes manicures last longer
Before you start with the process of rejuvenating your nails, here are some things you should consider for buying the best cuticle oil and cuticle serum.
Things To Consider When Buying The Best Cuticle Oil
If you often find yourself nibbling on the dry skin around the nails or have very soft nails prone to breakage fairly easily, cuticle oil will be the knight in shining armor for your nails. Quite literally, in fact! This golden serum is a powerful concoction that strengthens, hydrates, and adds a youthful shine to your nails, making them appear freshly manicured. 
A comprehensive cuticle treatment is a valuable investment as they are not very expensive and take only a few minutes of your day to give outstanding long-lasting results. It also helps in healthy nail growth. 
Ingredients
Cuticle oil is essentially a blend of a variety of potent oils and vitamins that have diverse properties like nail strengthening, skin smoothening, and softening, or improving nail health and reducing yellowness. Therefore you should look for certain specific oils when purchasing the best cuticle oil. These include:
Jojoba oil – It is a natural source of vitamin E. Many cuticle oils have jojoba oil as their base because it protects the moisture in the skin and nourishes and soothes dry, dead skin (2).
Grape seed oil – It is a quick-absorbent oil that is lightweight and does not leave behind a sticky sensation. It is recommended in cuticle oils because of its tendency to promote the natural collagen production of the skin (3). 
Sweet almond oil – It is loaded with natural vitamins and helps to restore the youth of the skin (4). It strengthens brittle and cracked nails and is, therefore, a good ingredient to have in cuticle oil. 
Apart from these other potent ingredients, you can look for coconut oil, aloe vera, and the non-negotiable component – Vitamin E for hydrated cuticles. A powerful antioxidant, vitamin E heals dehydrated skin, nourishes dry cuticles, and restores nail health. 
Application
The best way to apply cuticle oil is by taking a small drop of the oil. Go ahead by massaging it in a circular motion around your nails and cuticles for a couple of minutes. In order to get the best outcome, leave the oil on the nails as long as possible. If it feels greasy or sticky, you can wipe the access and go around running your errands with beautiful, soft hands. As a preventative measure and to maintain the general health of cuticles and nails, you can apply it 4-5 times a week. In cases of damaged nails in dire need of repair, using cuticle oil 1-2 times a day can significantly rejuvenate and bring back life to your cuticles.
Consistency
We all love soft, glowing hands with shiny nails and well-groomed cuticles. However, the oiliness and the greasy residue are a deal-breaker. Nobody wants to imprint their tips on walls and other surfaces! Based on our first hand experience, we know that quick-absorbent cuticle oils are preferred by everyone. So when you choose a cuticle nail oil, make sure the consistency is lightweight and gets absorbed effortlessly when you massage it into the skin. It should not be very fast drying, otherwise, it makes the purpose futile because you need that deep hydration. Finally, steer clear of heavy oils that are sticky and heavy on the nails.
Ease of Use
From droppers to brushes and roller balls to pen tips, cuticle oils are packaged in various forms. Because you are dealing with a liquid consistency, the applicator is of utmost significance. Further, oil stains are hard to get rid of. So you don't want them spilling everywhere. For ease of use and better control over the application, choose packaging that is comfortable, portable, and can be stored easily. 
The side-effects of environmental damage, usage of chemicals in the form of different products, and general degradation of health are visible on our nails and cuticles. Many people even indulge in nail-biting and peeling the cuticle skin because of constant stress. And while you may have beautiful and soft hands, messy and unkempt cuticles and nails can ruin their beauty. So, the best cuticle oil helps to restore and maintain the health of cuticles. Enriched with essential oils and vitamins, it not only helps to add an enhanced look to beautify your hands but also strengthens the nails and skin from within. They also help to heal from and prevent infections, ensuring long-lasting healthy, and happy nails. What are you waiting for? It's time to get your hands on the best cuticle oil and make it a part of your everyday essentials! 
Contributor: Dr. Andrea Suarez, Dermatologist
Author BIO
Sayantani is a certified hair and makeup professional turned writer with 2+ years of experience in the same genre. Ap More
FAQ's
What is the best oil to use on cuticles?
It depends on the specific concern of your nails, whether it's repairing damage, strengthening nails, promoting faster growth, etc. Our list has several best options, but for starters, you can choose from among cuccio NATURALE Revitalizing Cuticle Oil, O.P.I Pro Spa Nail & Cuticle Oil, and Maccibelle Cuticle Oil.
Do cuticle oils really work?
Yes, definitely. Cuticle oils contain antioxidants and strengthening and smoothing ingredients. These increase circulation around the nails and fingertips, stimulating nail growth and promoting healthy cuticles. They also add a long-lasting shine to your nails, making them appear more youthful.
What is the best cuticle oil to help nails grow?
Ingredients like jojoba and safflower oils help in faster nail growth. Azurebeauty PRO Cuticle Oil and Ecco Pure Cuticle Oil, for instance, contain these components and are great for nail growth and strength.
How often should you apply cuticle oil?
If you have extremely dry and damaged nails and cuticles, use your cuticle oil twice per day. And if you want to add a shine and a dose of nourishment, once a day will also give effective results. Some heavier formulations are to be used 3-4 times a week.
Is it okay to use cuticle oil every day?
Yes, absolutely! In fact, many cuticle oils are recommended to be used twice a day. To see the best results, follow the application instructions on the packaging.
Why Trust select
Our product experts study the specifications of every product we suggest and try them out to bring what's proven to be worthy of your money, time, and energy. We also have subject matter experts from various fields like Fashion, Skincare, Haircare, Home Decor, and Health & Fitness onboard to make sure our suggestions are credible and trustworthy. You can trust select to be your faithful shopping guide for all the right reasons!
Source link