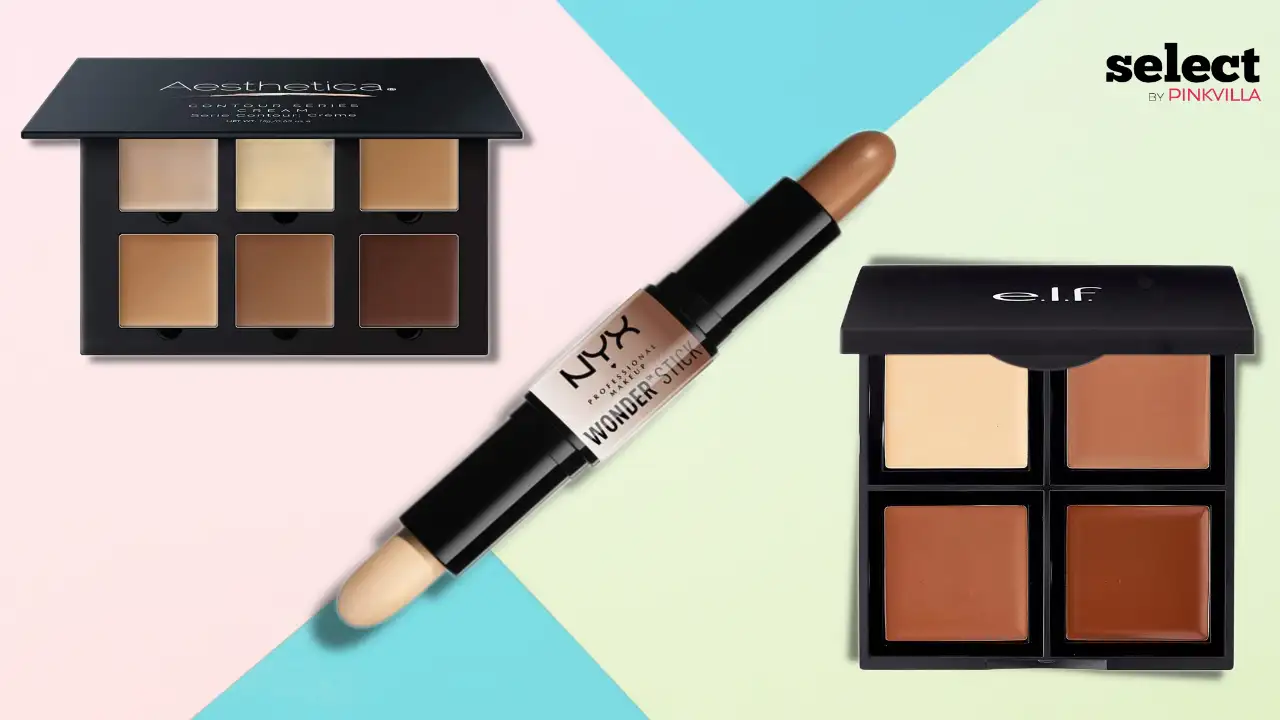 The products curated for this article are independently chosen by the
editorial team. If you make a purchase through the
links
mentioned below, we may receive a commission. Check out our
product
research & curation process
Contouring has become an integral part of our makeup game all thanks to the Kardashians! The finish, formula, texture, and affordability of these  best drugstore contours will have you swooning over it just like the rest of the beauty industry. The trending sculpted jawlines, beyond-perfect cheekbones, and sharp noses have made us look for quick hacks to get the coveted sculpted look. However, it is not always how we do it, but what helps us in achieving the desired result.
"Makeup is the finishing touch, the final accessory," according to the celebrity makeup artist Marc Jacobs. It is an easy ball game when you understand that contouring is nothing but sculpting the areas of your face that create a shadow when you are under the light. These contour products are your doorway to getting a flawless and sculpted face.
11 Best Drugstore Contours to Get Celebrity-Style Definition
The Highlight and Contour Pro Palette comes with 8 assorted shades of highlighter and contour to provide you with a sculpted face like the celebrities you adore. The set has refillable powdery products that you can mix and match to achieve your desired shade. With a cruelty-free tag, the brand boasts of delivering PETA-approved products for mindful makeup lovers. The blendable shades are the best options to illuminate, accentuate, and define your face with a matte finish in the most hassle-free way!
Pros
All-in-one
Blendable
Buildable
Cruelty-free
Customizable
PETA-approved
Wet n Wild MegaGlo Makeup Stick Contour is one of the top-rated drugstore contour sticks that make your contouring game stronger than before! The smooth consistency and cream formula is what you require to make your cheekbones sharp in just one swipe. The portable feature makes it a great product to carry and keeps you camera-ready in less than a minute! Last but not least, the stick is available in conceal, blush, and strobe shades to take care of your overall makeup need.
Pros
Easy-to-carry
Handy packaging
Blendable
Creamy
Versatile range
Ergonomic design
Cons
Could be more long-lasting
Aesthetica comes with 6 creamy blendable shades that are perfect for your everyday sculpting needs. With buildable formula, the range of shades allows you to opt for your personalized shade to help you get your coveted look. The travel-friendly drugstore contour kit features a sleek mirrored palette which is great for on-the-go touch-ups whenever required. Each shade has an incredible color payoff that lasts all day. The removable and refillable pans are another added benefit that you should consider before eyeing the product.
Pros
Travel-friendly
Airbrush effect
Blendable
Buildable
Vegan-friendly
Cruelty-free
This uniquely and innovatively designed makeup kit comes with 8 blendable shades that cater to more than contouring needs. With 4 contour shades and 4 highlighter shades, the product takes care of your sculpting needs single-handedly! The wide range of shades allows you to enhance your features by mixing and matching the shades according to your skin color! It has a compact design with refillable, and removable options which is another added benefit, to say the least! Not to miss, the hypoallergenic formula suits people with sensitive skin types.
Pros
Uniquely designed
Removable
Refillable
Long-lasting
Travel-friendly
Hypoallergenic
The proud cruelty-free and vegan-friendly brand boasts of delivering a revolutionary cream contour palette that consists of 4 shades to sculpt and enhance your natural facial features. This is one of the best contour palettes available in the market that definitely deserve a place on your stash to make your contour journey smoother. Made with skin-loving ingredients, the palette has a sleek and travel-friendly design that you can carry along with you as you please!
Pros
Blendable formula
Cruelty-free
Vegan-friendly
Travel-friendly
All-in-one
Skin-friendly ingredients
Cons
Not available in a wide range of shades
This set of 2 highlighters and contour products from FOCALLURE is available in a range of shades that claim to be more waterproof and long-lasting than competitor products! It has a creamy formula that glides smoothly over the face for a lustrous sculpting look. With a non-greasy formula, the professional set of makeup lasts for hours to give you the coveted finish that you browse through Instagram! The travel-friendly packaging is another benefit that needs special mention.
Pros
Waterproof
Long-lasting
Non-greasy
Travel-friendly
Glides smoothly
Blendable
With a super-soft and fine formula, the kit offers a seamless finish that defines your cheekbones, jawline, and forehead! The packaging consists of 3 powder highlighters and 3 contour shades that sculpt your face and brighten it at the same time. It boasts a cruelty-free and paraben-free formula that is best for your health and environment at the same time. The universal shades are another plus point that works for most of the skin irrespective of the color!
Pros
Blendable
Buildable
Cruelty-free
Paraben-free
Premium ingredients
Easy-to-use
Cons
Packaging could be sturdy
Contouring is now a piece of cake for you even if you are a beginner! Sharpen up the bridge of your nose, define the cheekbones, and perfect your jawline with this trio set that features a bronze shade, a highlight shade, and a contour shade. Not to miss, the palette comes with a contour brush to ease your sculpting game even more! The products blend like a dream to provide you with the coveted finish that you've been dreaming of. Getting a sculpted face like a runway model is now that easy!
Pros
Blendable
Buildable
All-in-one set
Contains a brush
Premium ingredients
Easy-to-use
Cons
The brush quality could be better
This drugstore contour product contains 6 different colors to serve various purposes. From highlighting to contouring, you are getting everything together without spending much! The palette consists of 6 skin-friendly products featuring shimmery highlighters and cool-toned contours for every possible skin tone. With hypoallergenic formula, the product promises a great experience without infusing nasty ingredients into your skin. Emphasize your prominent features by giving yourself an ultra-defined look that doesn't come at the cost of harming your skin or the environment.
Pros
Best for professionals
All-in-one kit
Cruelty-free
Hypoallergenic
Skin-friendly ingredients
Ultra-definition
Make your contouring journey easy peasy with this NYX Wonder Stick that has dual ends to serve both purposes. The dynamic duo single-handedly sculpts your face and highlights it at the same time to provide you with a flawless definition. It has a blendable formula packed with skin-friendly and PETA-approved ingredients to make your makeup journey clean and smooth. With ergonomic packaging, it allows you to hold the product with a firm grip for total control.
Pros
Blendable
Cruelty-free
Buildable
Travel-friendly
PETA approved
Creamy formula
Being called a 'laid-back' makeup palette, this product from Smashbox contains 6 well-pigmented shades with two best-selling contour shades that blend like a dream. The other shades, highlighter, and blush, from the palette effortlessly give a touch of warmth and glow to give you the perfect sun-kissed warmth. The palette has 3 mattes, 2 highlighters, and one blusher to make your experience top-notch. Furthermore, the products are formulated without nasty ingredients like phthalates, parabens, and fragrances to take great care of your skin.
Pros
Blendable
All-in-one
Buildable
Paraben-free
Phthalates-free
Versatile shades
What to Consider When Buying Drugstore Contours?
a) Formula- The formula depends on the skin type you have or your makeup skill! If you are a beginner, a powder contour is the best for you as it gives you a hold on your product. Powder product works exceedingly well for oily skin people. Similarly, if you have dry skin, and you are already a pro at makeup, a cream-based contour is what you should grab!
b) Skin tone- In order to pick the right shade for you, take your foundation as an example! Your contour shade should always be two-toned darker than your skin tone to give you a natural flawless. Anything beyond that will look unnatural.
c) Undertone- Make sure the product you are investing in has a cool undertone! Brown shades with warm undertones work great as bronzers. Contour shades generally have a cool ashy tone to create a shade right where it requires.
d) Blendabilty- The blending game needs to be stronger than you can imagine! And it not only requires your skill but also the texture of the product. Pick a product that has a creamy texture and blends seamlessly without giving a cringe effect!
How to Use Drugstore Contour?
a) First thing first, apply a face primer before starting your makeup.
b) Take your color correctors if needed and blend them before proceeding with your foundation.
c) Now, take your foundation and apply all over the face and blend it well.
d) After you are done, take your cream contour and apply it right above the hollows of your cheeks, below your jawline, under your hairline, and on the sides of the bridge of your nose, and blend them outward of your face.
e) The best method is to stand under a light to see the parts of your face that create a shadow to identify the right places where you need to apply the contour.
f) After you apply concealer and setting powder, now, take the powder contour, and apply it to the same places in the same direction to set the contour and make it long-lasting.
g) Finish off with a blusher and highlighter to seal the deal.
These best drugstore contours are here to help you achieve the flawlessly sculpted face that you have been bookmarking for so long! They are affordable, blend like a dream, and come with a super buildable formula to help you with getting your desired finish that you see only on Pinterest! So, which one is making its way to the cart today?
Author BIO
Sayantani is a certified hair and makeup professional turned writer with 2+ years of experience in the same genre. Ap More
FAQ's
What can I use as a contour product?
There are multiple options available in the market. From contour powder to contour stick to liquid contour, you can use any product according to your convenience.
Is a contour stick or powder better?
It depends on your preference and skin type. If you have oily skin, it is better to use a powder contour. On the other hand, if you have dry skin, your pick should be more towards a creamier side aka a contour stick.
Should your contour be darker or lighter?
It depends on the skin tone. If you have a darker skin tone, you will require a darker contour. Similarly, if you have a lighter skin tone, a lighter contour is required. The key is to opt for a contour that istwo-tonedd darker than your skin tone.
Do you put foundation on before contouring?
Cream contouring can be applied underneath your foundation with sheer coverage for an appearance of a naturally sculpted look. However, powder foundation should always be applied over the base when it is set properly.
How do I find the right contour shade?
Go for a contour shade that is two-toned darker than your foundation shade to achieve a flawless and naturally sculpted look.
What type of foundation should you use for contouring?
You can use powder-based or cream-based foundation according to your choice or skin type. However, if you are applying a powder-based contour, make sure you have set the foundation base with a setting powder before going for contouring. For stick or cream contours, you should always apply it right on top of the foundation for ease of blending.
Why Trust select
Our product experts study the specifications of every product we suggest and try them out to bring what's proven to be worthy of your money, time, and energy. We also have subject matter experts from various fields like Fashion, Skincare, Haircare, Home Decor, and Health & Fitness onboard to make sure our suggestions are credible and trustworthy. You can trust select to be your faithful shopping guide for all the right reasons!
Source link