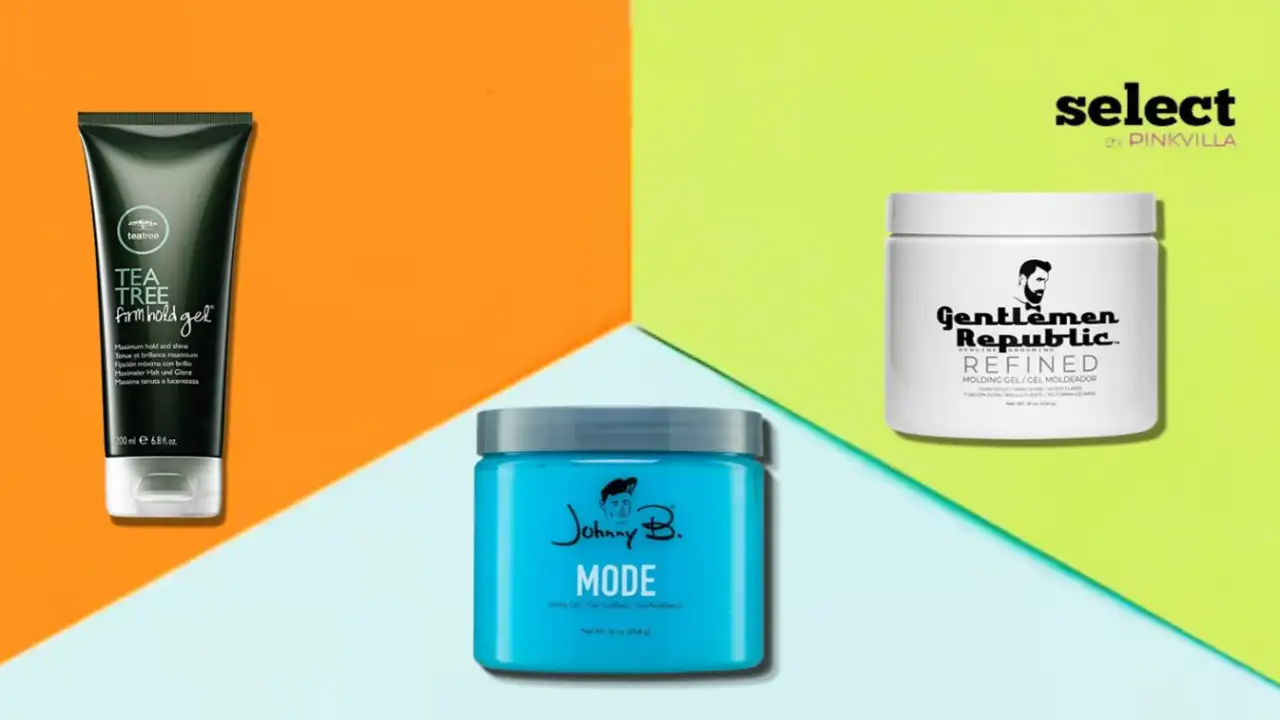 The products curated for this article are independently chosen by the
editorial team. If you make a purchase through the
links
mentioned below, we may receive a commission. Check out our
product
research & curation process
Introduction:
Every dude who wishes to flaunt a sleek appearance must get his hands on the best hair gel for men as it is a staple men's grooming product. Unlike waxes or mattifying pomades, hair gels give a wet look to your hair that makes you appear fresh and swank. By using a gel, you can set any desired hairstyle in place, be it a slick-back pompadour, side-swept brush-ups, or even a textured crew cut while also adding some glossy nuance to it. And, if you're a fan of such wet-haired looks, then let us tell you that today such styles are appropriate and acceptable for almost any occasion, even at the workplace!
The best part about hair gels is that even if you're wearing a simple button-down or a V-neck tee, your hair will spruce up your entire look from casual to fancy. Moreover, gelled hairstyles go a long way in impressing the ladies. However, if you've been using these products for a while, you would know that flaking and tacky residues are a common problem. On top of that, we want to stay away from products that provide a weak hold and make your hair droopy or too slimy. 
By considering common woes related to hair gels, we've meticulously researched and listed our favorite products below, so you don't make yet another purchase that you'll regret. Keep reading to find out! 
Our top picks
Best Revitalizing Formula
Best for Sensitive Scalps
You can trust this men's hair gel by Johnny B. to allow your hair to breathe while holding your hairstyle in place, as it has a lean formula and is free from unnecessary filler ingredients. Instead of containing icky oils, petrolatum, and waxes, the product contains panthenol — a water-soluble film that also nourishes your hair. And, once you're done using it, you'll notice that it rinses off easily and does not leave any buildup. Besides, while the price may be a no-go for some, we can assure you that a single one-pound container will last you for a very long time! 
Pros
Fresh, luminous color
Luxury beauty product
Works on all hair textures
No flake formula
Adds great volume
Long-lasting results
Maintains softness of strands
The ProThick technology of this styling gel by Nioxin gives a fuller, and volumized appearance to your hair, making it one of the best men's hair gels for fine hair. By just using a pea-sized dollop of the product, you can give a considerable lift to your hair, so you can get playful and style it as you like. In addition, our findings indicate that the product does not make your hair stiff and crunchy but instead texturizes your hair and gives it a smooth feel! 
Pros
Indulgent fragrance
Settles quickly
Maintains softness of strands
Professional beauty product
Leave no sticky residue
Helps smoothen out frizziness
Cons
Overpriced
Feels a bit heavy
Paul Mitchell's standard essence of tea tree as well as cool mint and citrus extracts infused in this styling gel make it a refreshing product one cannot get enough of! And, a distinguishing feature of this product that we love is that it is formulated with natural film-forming ingredients such as aloe vera, algae, white ginger stem extracts, etc. that over-cross polymers to hold your hair in place without making it too crunchy. Lastly, it is among the best men's hair gel to achieve a dashing wet hair look. 
Pros
Smells heavenly
Nourishing formula
Sustainable packaging
Suits all hair textures
Retains natural moisture
Softens your hair's texture
A little goes a long way
Provides a great hold
Cons
A bit too slimy for some
Hold isn't very strong
We recommend using this humidity-resistant hair gel for guys whose hair keeps losing shape due to the weather. Owing to its viscose, spreadable texture, you can rub a very small pea-sized amount between your palms and use it sufficiently to shape all your hair. And, its hold is really strong and lasts you all day, meaning you don't have to keep brushing your fingers through your hair to make it stay in place! All in all, it is one of the best men's hair gels to achieve a sleek and sophisticated look. 
Pros
Smells amazing
Leaves no buildup
Dries out quickly
Lean formula
Contains no alcohol
Doesn't make hair crunchy
Not unnaturally shiny
Suitable for sensitive scalps
Compared to other similar products, this hair styling gel by Gummy provides excellent pliability before drying, so you can take your time and play around with different hairstyles. Its texture is perfectly viscose and not too thick, which makes it easy to apply evenly to your hair. Plus, most users of this product report that it does not make your hair too crunchy while providing a strong hold. In addition, owing to its lightweight texture, the product won't weigh your hair down and stay on comfortably. 
Pros
Alcohol-free
Climate pledge friendly
Maintains hair's softness
Non-drying formula
Hold lasts all-day
Smells amazing
Cons
Takes some time to dry
Not for thick, curly hair
In contrast to the tacky oil-based styling gels, this "gel pomade" by CRVFT has a water-based formula that stays put for a long time but also comes off easily when you rinse it. And, it is free from unnecessary filler ingredients that are unlikely to cause allergies or side effects to people with sensitive scalps. Plus, owing to its formula, the product also doesn't leave a greasy residue. Our research indicates that the formula has anti-static properties, which tames unruly frizz and allows you to control your tresses better. 
Pros
Hydrating benefits
Suits all hair textures
Pleasant masculine scent
Goes on smoothly
Provides a medium hold
Makes hair soft and healthy
Cons
Overpriced
Might flake a bit
Those with baby-fine hair must get their hands on this men's styling gel by Pinaud Clubman as the thickening ingredients infused in it give your hair a fuller, volumized look. Adding to that, the hydrolyzed protein in the formula replenishes individual strands to strengthen them and protect them from breakage. We also love how the product gives a medium hold to your hair, striking the perfect balance between stiff and mushy. Plus, its consistency and scent indulge your senses in a way that you'd want to stick to this gel for a long time. 
Pros
Non-greasy
Tames frizz
Easy to wash off
Smells fantastic
Doesn't flake
Gives a glossy, wet look
Cons
Overpriced
Poor packaging
Our findings show that this product is among the best styling gels for men that not only holds their hair in place but also strengthens individual strands by replenishing them with protein. The formula also contains revitalizing ingredients such as neem oil to nourish your scalp and prevent pesky problems like dandruff. Last but not the least, the product provides a firm hold to your hair, which makes it ideal for special occasions and hairstyles like quiffs and side slicks. 
Pros
Mildly scented
Non-greasy
Works for all hair textures
Alcohol-free formula
Improves hair's elasticity
Retains natural moisture
Cons
Can make your hair a little crunchy
In a sea of artificially formulated firming products, this organic hair gel for men by Gelactica stands out as a 100% naturally derived product that not only styles your hair but also provides adequate nourishment to it. Furthermore, despite providing an excellent lift to your hair, the water-based product is also easy to wash off without having to use soap. It gives a medium hold to your hair — ideal for everyday styling. Lastly, based on our observations, it is one of the best men's hair gels for a wet look.
Pros
Fresh scent
Stays put all-day
Rinses off easily
Soothing formula
Moisturizes your hair
Maintains softness of strands
Enriched with antioxidants, this wet-look styling gel for men not only provides a strong hold but also strengthens your hair by protecting it from environmental damage such as pollution. While panthenol nourishes your hair and helps style it with its film-forming properties, other hair-friendly goodies in the product such as biotin and cobalamin promote overall hair health. Moreover, the product does not flake or cause any hair problems such as dandruff. 
Pros
Smells great
Pocket-friendly
Moisturizing formula
Works with all hair textures
Leaves no sticky residue
Spreads smoothly without lumps
For people with short hair, this is a good hair styling gel to provide a firm hold for brushed-up spikes, textured pixie cuts, and similar hairstyles. The glossy, wet look this formula gives your hair adds nuance and sleekness to your style. Plus, formulated with care, the film-forming gel intends to strengthen your hair shaft to prevent breakage caused by environmental factors, heat exposure, etc. On top of that, the product is very cost-effective, so you can go easy on your pocket while staying in style. 
Pros
Residue-free
Cruelty-free
Does not flake
Plush with natural extracts
Fresh, masculine scent
Cons
Too many ingredients
Not alcohol-free
You can trust the good ol' Old Spice to cater to all your masculine grooming needs, including your hairstyle with this styling gel for men. It gives a moderate shine, which primps up your style and makes you stand out without seeming too artificial. A great feature about this product is that a small, pea-sized quantity goes a long way in making sure your hairstyle lasts all day. Plus, the aloe vera extracts infused in the product work as a natural film-forming agent to give an excellent hold to your hair while boosting hydration so that your precious locks feel as great as they look! 
Pros
Lean formula
Very soothing
Suits all hair textures
Invigorating fragrance
Rinses off easily
Does not flake
Among the best thickening hair gels for men, this hair gel by Tigi gives a fuller appearance to baby-fine hair strands and primps up your look. The hold this product provides is adequately firm to keep everything from fancy pompadours to regular Ivy League hairstyles in place all day. Furthermore, what makes the product very easy to use is that when you rub and warm the product between your palms, it does not stick and goes on smoothly over your hair.
Pros
Residue-free
Shiny finish
Alcohol-free
Smells amazing
One can use this styling gel on their hair as well as their beard to shape them as desired and make the style last all day. In addition to forming polymers, the formula is rich in moisturizing and soothing ingredients such as allantoin, panthenol, and sage leaf extracts that marvelously nourish and rejuvenate your hair!  Unlike several drugstore gels, this one is among the best hair gels for thick hair as it does not weigh it down and helps tame unruly locks. 
Pros
Pocket-friendly
Fantastic fragrance
Boosts hydration
Dapper wet look
Easy to rinse off
Cons
Contains parabens
Not for thin hair
This product by Nature's Brands is a good organic hair gel for men and women that combines style with nourishment. Formulated with organic guar gum and xanthan gum, the product provides an adequate hold that works well for everyday use — perfect to slick your hair back or sideways with a comb for a professional look. Adding to that, it contains natural oils that boost hydration and seal in the natural moisture of your hair, which gives a natural shine and upgrades your appearance. 
Pros
Very soothing
Cruelty-free
Climate pledge friendly
Naturally-derived ingredients
Revitalizing formula
Cons
Not for sensitive scalps
Leaves a white residue
Now that you've seen our product recommendations for the best hair gels for men, let us go through the following buying guide so you make an informed purchase. 
How to Choose the Best Hair Gels for Men?
Here are a few factors to consider when choosing the best hair gels for men:
Holding Power
The bottom line of using a hair gel is to make your desired hairstyle stay in place. Hence, the holding power of the hair gel is the most important factor to consider when investing in one. While some people prefer having a gel with a very strong hold to help with elaborate styles, others prefer a medium-hold gel to enhance their everyday look. For this, always check the product labels and specific claims they make regarding the holding power of the product before buying.
Here are some ingredients to look for to get an idea about the holding power of your product:
1. Gelling polymers: Carbomers, polyvinyl acetate, PVP/PA copolymer, etc. are large molecules that deposit a clear membrane on your hair strands and provide a strong hold on drying out. These are the most common ingredients found in hair gels. 
2. Film-forming humectants: aloe vera juice, panthenol, hydrolyzed protein, marshmallow root, nettle extracts, etc. 
3. Botanically-derived gums — xanthan gum, guar gum, etc.
4. Cellulose compounds — hydroxyethylcellulose and carboxymethyl cellulose
Lasting Power: In addition to holding power, always take into consideration how long the product makes your hairstyle last. It is better to invest in a product that doesn't require frequent re-application. 
Pliability And Finish
It is necessary for your styling gel to be able to maneuver your hair so that you can effortlessly achieve your desired hairstyle. However, when considering the pliability factor along with the holding power, ensure your product does not make your hair too stiff or crunchy as that looks too artificial and unflattering. Likewise, while a wet look is very attractive, ensure the product does not make your hair unnaturally shiny. The best hair styling gel for men will provide great hold while also softening your hair and giving a dapper finish that you cannot get enough of! 
Formulation
Besides the film formers, ensure you look for other invigorating ingredients in your styling gel. Humectants such as glycerin, panthenol, allantoin, caprylyl glycol, aloe extracts, etc. are a must-have in your styling gel to provide your hair with adequate moisture and prevent the firming action to dry it out. Along with this, if your product happens to have soothing ingredients such as sage leaf extracts, marshmallow root extracts, tea tree oil, etc., then it is an added perk that should be prioritized when shopping. Also, products formulated with essential vitamins provide antioxidant benefits to your hair and keep environmental damage at bay. 
Fragrance
In addition to looking amazing, it always helps when your hair smells amazing. And if you are someone who likes to pamper your senses, then it is a good idea to invest in a hair gel that smells fresh and indulgent. 
Conclusion:
The above-mentioned products are some of the best hair gels for men out there that provide an excellent hold and a shiny finish. Unlike hair waxes or mattifying pomades, these gels are ideal for people who aim for a wet look that makes them stand out from the crowd. So, to obtain the best results from such a product, ensure you consider your styling needs and thoroughly refer to our buying guide. Adding to that, always check the ingredients list to avoid allergens and stay safe. Happy shopping! 
Author BIO
Neha Tiwari, a certified Haircare coach, an experienced writer, educator, translator, and editor, has been catering t More
Why Trust select
Neha Tiwari, a certified Haircare coach, an experienced writer, educator, translator, and editor, has been catering to the content world for over 7 years now. Due to her fervent interest in haircare, she loves studying more and more about Trichology (Hair Therapies). Neha pens down hair care-related articles enriched with valuable facts in the most comprehensible manner for her readers. Other than curating content, she loves to binge-watch beauty videos, travel to exotic locations, and create interesting recipes. She also has a YouTube channel that features her life updates along with tried and tested beauty hacks.
Here, after thorough research, she has listed the best hair gels for men that promise a strong and long-lasting hold. 
Our product experts study the specifications of every product we suggest and try them out to bring what's proven to be worthy of your money, time, and energy. We also have subject matter experts from various fields like Fashion, Skincare, Haircare, Home Decor, and Health & Fitness onboard to make sure our suggestions are credible and trustworthy. You can trust Select to be your faithful shopping guide for all the right reasons!
Source link