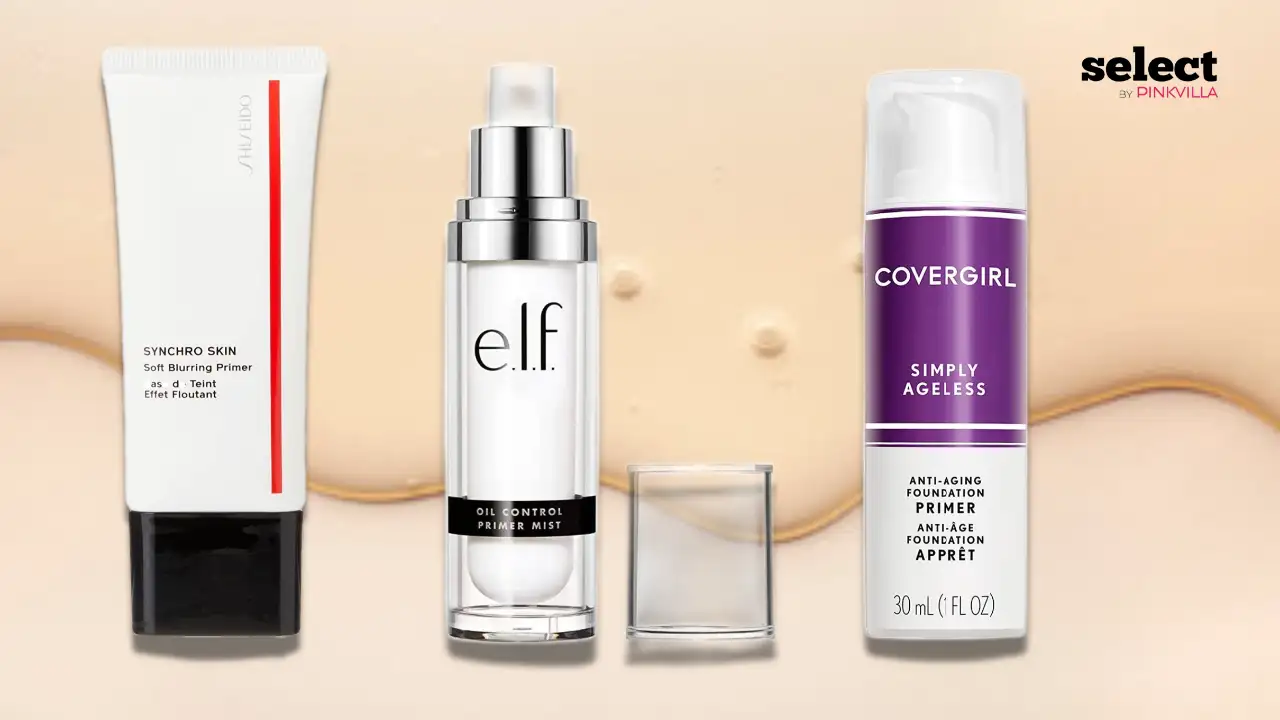 The products curated for this article are independently chosen by the
editorial team. If you make a purchase through the
links
mentioned below, we may receive a commission. Check out our
product
research & curation process
Primer is one of those makeup products that only became a 'thing' so to speak in the last decade. Well, thank God, our eyes opened and we discovered this wig-snatching cosmetic. The primer is now the primary base we apply before we get to the concealer and foundation. It evens and tones our skin for a flat surface with no bumps or pores. It has three variants but today we dwell on the twisty tides, that's right we are here to talk about the best water-based primers present in our makeup wishlists.

 "Among other items before makeup, face primer is not less important in its function! your makeup will be smoother when you prepare your skin with a face primer first." says the creator of Moss Mayra Cosmetics. Winter skin is unavoidably dry and flaky, but using water-based primers can help keep your skin wonderfully hydrated. These primers have the potential to make your bone-dry skin wetter than the month of August! If you don't trust me, consider these 13 hydrating water-based primers and decide for yourself.
13 Best Water-Based Primers Perfect for Dehydrated Skin
Don't worry if you had a crazy night with your dry skin itching all over. This primer contains coconut water, which is intended to moisturize your pores and make stressed-out skin feel pillow-soft again. It not only hydrates and brightens the skin for a fresh and healthy appearance, but also increases skin suppleness. Not only that,as per the many reviews and customer testimonials, the Too Faced Hangover Replenishing Face Primer is well-liked by most people who have used it.
Pros
Restores soft skin
Smooth formula
Silicone-free
Paraben-free
The primer consists of hydrating ingredients that are particularly good for mature, dry, or normal skin. The pump application helps to measure out just the right amount of product you need. Texture-wise the primer settles on top of your skin to protect the skin from being damaged. This anti-aging foundation plumps up skin to instantly reduce the appearance of wrinkles for a younger-looking complexion. Hyaluronic components and vitamin C deliver firming hydration to keep your skin looking healthy and radiant throughout the day.
Pros
Available in various shades
Anti-aging properties
Oil-free
Cruelty-free
Ultra-light primer water that hydrates, smoothens, and brightens skin for a dewy, healthy look. It is an everyday essential to create a smooth, flawless canvas for application. It allows the foundation to glide on easily and stay looking fresh for hours. Compliments your final look with the classical scent of floral rose. The 3-in-1 primer preps, primes and refreshes the skin so that your makeup stays put throughout any event. It creates a smooth base for applying your foundation and when used as a setting spray, it prevents makeup meltdown for all-day wear.
Pros
Hydrating formula
Smooth application
Suitable for all-day wear
Sweet fragrance
Cons
Dispenser spray may break
The cream formulation is considered one of the best face primers by celebrity makeup artists. Shiseido Synchro Skin Soft Blurring Primer is a weightless, water-based primer that visibly mattifies, refines pores, and blurs the skin with light-diffusion technology. It's crafted with peptides, sebum-catch powder (prolongs makeup wear), and snowflake powder (smooths lines, wrinkles, and rough skin). Its formulation is suitable for all skin types from normal, dry, combination, and oily. The ingenious product targets and settles pores and uneven skin tone in every use. It provides up to eight hours of hydration while absorbing excess oil throughout the day.
Pros
Matte-finish
Targets oily skin
Worth the value
Oily skin and uneven skin are the worries of the past thanks to the e.l.f. Oil Control Primer Mist. It helps in minimizing oil, mattifies the pores, and hydrates the skin. Also, it is enriched with purified water, cucumber extract, and vitamins E and  B. It's one of the best options for drugstore-bought water-based primers. The lightweight formula creates an airy and soft layer on the skin to prepare and protect it from the harsh ingredients present in certain makeup.
Pros
Suitable for oily skin
Reduces appearance of pores
Hydrates skin
Light formula
Cons
Not suitable for dry skin
The 3-in-1 Dermablend Insta-Grip Jelly hydrating makeup primer for the face is an instant moisturizer and tightening mask. The pore primer works on all skin types whether it's dry, aging, acne-prone, or sensitive without any compromise. The jelly texture provides a fun experience while prepping for your makeup routine. Since its silicone-free, the foundation won't split during application too! For a invariant base, take 1-2 pumps on the face and massage upward on the face and use outward strokes.
Pros
Non-comedogenic
Silicone-free
Cruelty-free
Fragrance-free
Do yourself a favor and get a product that covers two steps in one. Smashbox Photo Finish Primer Water preps and sets your skin for the most seamless application. This water-based primer is filled with electrolytes meant to wake up the skin and boost your overall radiance. The primer brings hydration to dry and flaky skin, reduces open pores in an instant, and preps it up for easy makeup application.Try it to know the difference.
Pros
Suitable for all skin types
Boosts radiance
Provides great results on application
Seamless finish
Fifth & Skin Better'n Ur Skin Mineral Makeup Primer is an anti-aging, vitamin-rich face primer. It is an excellent makeup base for all foundations and skin types, including sensitive, mature, normal, combo, oily, and dry skin. The primer moisturises your skin so effectively that it may also serve as a replacement for your midday moisturiser. Its non-greasy composition will not clog your pores and will leave you with a silky smooth finish.
Pros
Suitable for sensitive skin
Non-comedogenic
Hypoallergenic
Non-greasy
The Skindinavia Primer Spray's moisturising composition diminishes the appearance of pores and fine wrinkles while providing a smooth finish. Use the spray under or over makeup to keep your healthy, glowing appearance all day. The spray is good for skin that is dehydrated, tight, and unpleasant. It employs a silicone-free water-based solution that complements water-based foundation products. Makeup sprays are popular on movie sets and among professional makeup artists. You may have confidence in this exceptional formulation.
Pros
Silicone-free
Paraben-free
Cruelty-free
Vegan
Cons
Not suitable for sensitive skin
This Makeup Revolution primer comes in a lightweight, and fast-absorbing formula that creates a smooth surface for application. It's infused with vitamin E and hyaluronic acid that hydrates the skin and sinks into the skin resulting in a glowing complexion. Also, this radiance-boosting primer sits at the lower end of the scale when it comes to the price factor. The only hitch is that the formula might seem a bit too runny for textural purposes on the skin.
Pros
Pocket-friendly
Hydrating formula
Cruelty-free
Peta-approved
This luminous finishing spray and makeup primer give your skin just the right amount of dewiness. It contains charcoal and silica, which aid in the retention of the makeup. The vegan formula primes, moisturizes, and brightens your skin. The spray also contains ever met and honey matte, which provide a smooth, powdery finish and a pore-free appearance. Spray before applying makeup to establish your appearance, or wear it on its own for all-day brightness.
Pros
Long-lasting
Mild fragrance
Vegan
Cruelty-free
Cons
Can cause irritation in the eyes
The matte series will give you an amazing healthy glow and is preferred for normal to oily skin. It's one of the best drugstore water-based primers in the market today for the incredible coverage and setting that can be achieved at a low price point level. It encapsulates vitamin E and minerals to provide an amazing healthy glow and a long-wear of over 12 hours that requires no touch-up at all. The flawless satin airbrush foundation comes in a convenient 0.25 oz size mini vial suitable for travels too.
Pros
Affordable
Lasts up to 12 hours
Travel-friendly
Alcohol-free
Cons
Very less amount of product
To get silky smooth base makeup try the dual combo of moisturizer and primer with a Moist Primer Airbrush Moisturizer. It gives a lit-from-within glow look as the hydrating formula of the primer is packed with special luminescent abilities that will give you the perfect pre-filtered look before foundation. It helps in improving the appearance of fatigued, sagging, dull, dry, and flaky-looking skin with the moisturizering abilities in it.Not only that but it gives an oil-free look anf brings a natural glow to your face.
Pros
Dual-usage
Oil-free
Hypoallergenic
Natural glow
Affordable
How to Select the Best Water-based Primer
a) If you have dry or flaky skin, choose a hydrating primer. Look for words like "soothing," "hydrating," and "replenishing."
b) If your skin is oily, use a mattifying primer to reduce your skin's oil production and minimize shine.
c) If you have acne-prone or very sensitive skin, opt for water-based primers because silicone-based ones may clog pores and cause breakouts or irritation.
d) Use a primer with nourishing ingredients and one that's infused with antioxidants for mature or aging skin.
How to Apply Water-based Primer
1. Firstly, prep your face by cleaning it with a facial toner (which can be water-based) and a cotton ball/swab. 
2. Gently apply a coat of your preferred water-based primer directly on the skin with a brush, sponge, or even fingertips. 
3. Massage it into the skin to fill in the pores, wrinkles, and crease lines.
4. Spread it evenly to smoothen out the face for easy application of makeup. 
5. After that, choose your skin tone-based foundation and distribute the product evenly for a well-sculpted look.
Applying foundation directly, can leave your skin dry and may cause acne, eczema and skin allergen problems. But, The best water-based primers help in eliminating the problems by creating a second layer to your skin. It shields the skin and provides protection from UV rays too. These aspects help your skin befittingly and help your makeup look flawless. The above-mentioned products are handpicked with utmost care for sensitive issues like acne and allergens, hope you choose the best for yourself. Happy shopping!
Author BIO
Sayantani is a certified hair and makeup professional turned writer with 2+ years of experience in the same genre. Ap More
FAQ's
Are water-based primers better than silicone-based primers?
Yes, since water-based primers are more fluid and combinable than silicone-based primers due to their chemical properties.
What can you expect from water-based primers?
They have light and quick absorbing formulas that can hydrate the skin when applied but can sometimes have a runny texture too.
Are water-based primers good?
Yes, they provide the natural setting and glow for your skin during prep time making it the best option to start your makeup routine with.
Should I use a water-based primer for makeup?
Yes, if you are a beginner then water-based primers are a great fix due to their non-toxic and chemical-free formulations.
What is the difference between an oil-based and water-based primer?
The difference is that oil-based primers can sit on the skin for quite some time, due to their heavy formulation and cannot be soaked by the skin. Simultaneously, water-based primers are lighter compared to their counterpart hence they dry out quickly.
Why Trust select
The author of this article, Sayantani Deb, likes to spend her time researching the best beauty and makeup finds trending across various online platforms to bring her readers a curation of the top picks. Here, she has carefully shortlisted a list of the best water-based primers to help you select the one most suitable for your skin type and concerns.
Our product experts study the specifications of every product we suggest and try them out to bring what's proven to be worthy of your money, time, and energy. We also have subject matter experts from various fields like Fashion, Skincare, Haircare, Home Decor, and Health & Fitness onboard to make sure our suggestions are credible and trustworthy. You can trust select to be your faithful shopping guide for all the right reasons!
Source link