Russian state television had a problem with the Houston native representing the U.S. at the Miss Universe competition, with one anchor described how her costume was another example of American hegemony—not just on this planet, but beyond.
The program Time Will Tell, broadcast on Russia's First Channel, has repeatedly denigrated the U.S. and its support for Ukraine. But a segment on a recent show broadened that criticism to include the significance of the attire worn by R'Bonney Gabriel, who won the annual Miss Universe pageant on Saturday in New Orleans.
Gabriel, 28, a fashion designer, model and sewing instructor from Texas wore a homage to NASA's Apollo 11 lunar landing and current Artemis program.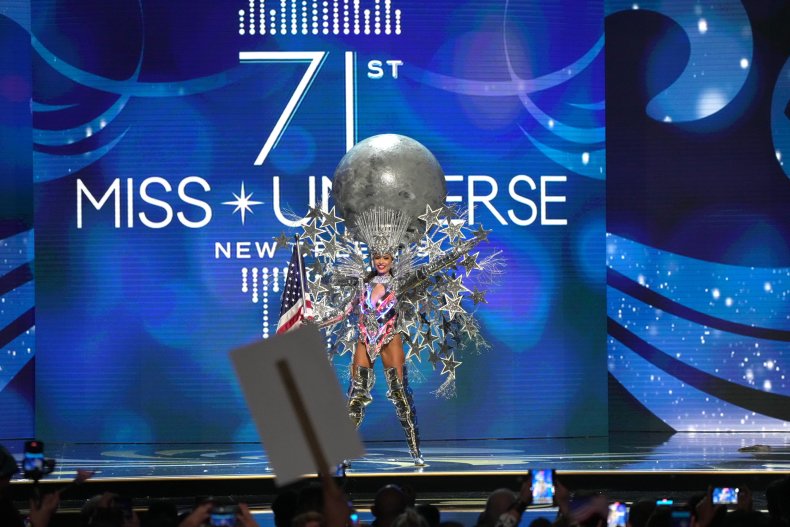 In an Instagram post, she wrote that the moon mission on July 20, 1969, was "one of the most remarkable achievements in human history" and that today "women are involved more than ever in the Artemis program aiming to send the U.S. back to the moon," which inspired the outfit.
But Russian anchor Anatoly Kuzichev smirked as he introduced a clip of Gabriel walking on stage holding the Stars and Stripes and sporting the ensemble decorated with red, white and blue lights, framed by a moon over her head surrounded by silver stars.
Kuzichev took a sarcastic tone in suggesting that the costume represented how the U.S. harbored ideas above its station—the International Space Station.
In his view, Gabriel "symbolically demonstrated the might of her country and not all of its might but also the claims the U.S. has not only on the Earth," he said, "they claim to the entire universe."
Incorrectly calling the costume "the universe," which he said "shocked my imagination", he laughingly suggested it symbolized "American arrogance and pride" and mocked how Gabriel appeared to have "the entire universe on her shoulders."
He compared it to what was worn by the Russian contender Anna Linikova, and "our contestant and our ambitions."
"I don't know anything about dresses but something tells me it is quite elegant," he said of the Russian contender, "it's called 'the crown of the Russian empire.'"
The clip was tweeted by journalist and Russia watcher, Julia Davis. "Russian state TV smeared the costume worn by Miss USA R'Bonney Gabriel, 'Woman on the Moon,'" she tweeted.
"The host lied that it was called 'The Universe' and signified America's claim to it. The Russian contestant's dress was called 'The Crown of the Russian Empire,'" Davis added.
Gabriel, who is the first Filipino American woman to serve as Miss USA, won the competition ahead of Miss Venezuela, Amanda Dudamel, and second runner-up Miss Dominican Republic, Andreina Martinez.
Gabriel has her own eco-friendly clothing line. During the swimsuit portion of the competition, she wore a bright orange one-shoulder swimsuit paired with a cape she designed that used sustainable dyes and plastic bottles. Newsweek has contacted Gabriel for comment.